Getting Started#
This tutorial creates an introductory application that uses Inrupt's JavaScript client libraries to:
Login a user.

Reads the Pod URL(s) associated with the user's WebID. A WebID is a URL that identifies a user and dereferences to the user's WebID profile document.

Write a reading list to the user's Pod.
The tutorial uses npm and webpack to run the application locally on http://localhost:8080/.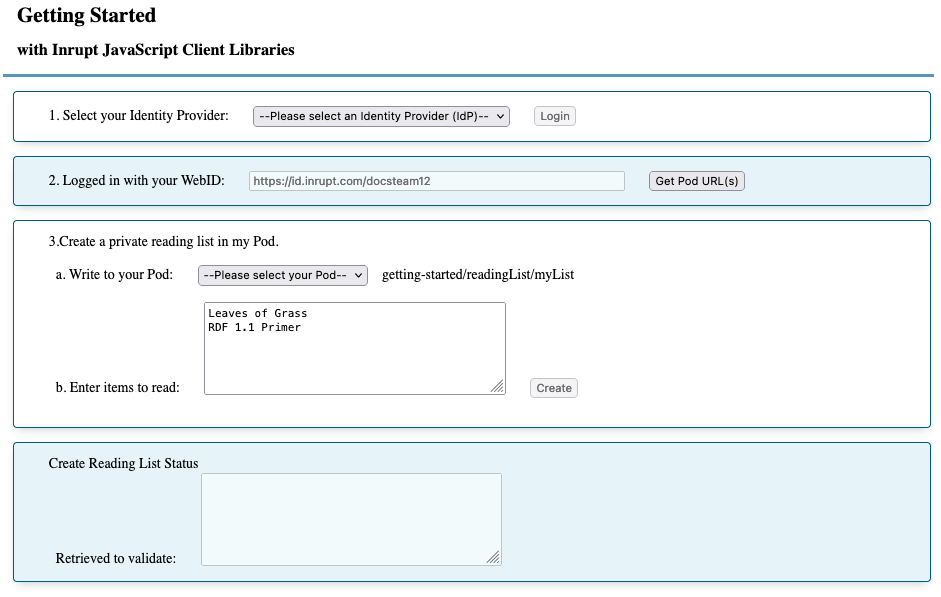 Prerequisites#
Get a WebID and Solid Pod#
Note
This tutorial uses Inrupt's PodSpaces (Developer Preview) and provides instructions on creating an account, WebID and a Pod through PodSpaces.

PodSpaces is currently available as Developer Preview. Do not use for production or storing sensitive/personal data.
For more information on PodSpaces, see Inrupt PodSpaces documentation.
To get a WebID and a Pod on PodSpaces:
Go to PodSpaces.

To create an account, you must agree to the Inrupt's Terms of Service. To agree, select the checkbox.

If you agree to Inrupt's Terms of Service, click on Create an Account.

If you have not register an account with the Inrupt Identity Provider, click on Sign up link to create an account:

Fill in your username, email, and password.

Click Sign up. You are sent a verification email.

Check your email for the verification email. Follow the instructions in the email to verify.

Tip

Check your spam if you do not see the email in your inbox.

Once verified, return to click Continue to go to the Sign in page:

Enter your username and password.

Click Sign in to your account.

The screen displays the access required to continue.

To allow and continue, click Allow.

The application displays:

Your WebID: https://id.inrupt.com/{username}.

Your Solid Pod: https://storage.inrupt.com/{Root Container}
Explanation of the Code#
See Examination of the Code for an explanation of the Inrupt's JavaScript client libraries usage in this tutorial.