Getting Started: Part 1#
This tutorial creates an introductory application that uses Inrupt's JavaScript client libraries to read your user profile data from your Pod. Alternatively, to create a sample application using Inrupt's Solid React SDK, refer to Solid React SDK documentation.
The tutorial uses npm and webpack to run the application locally on localhost:8080.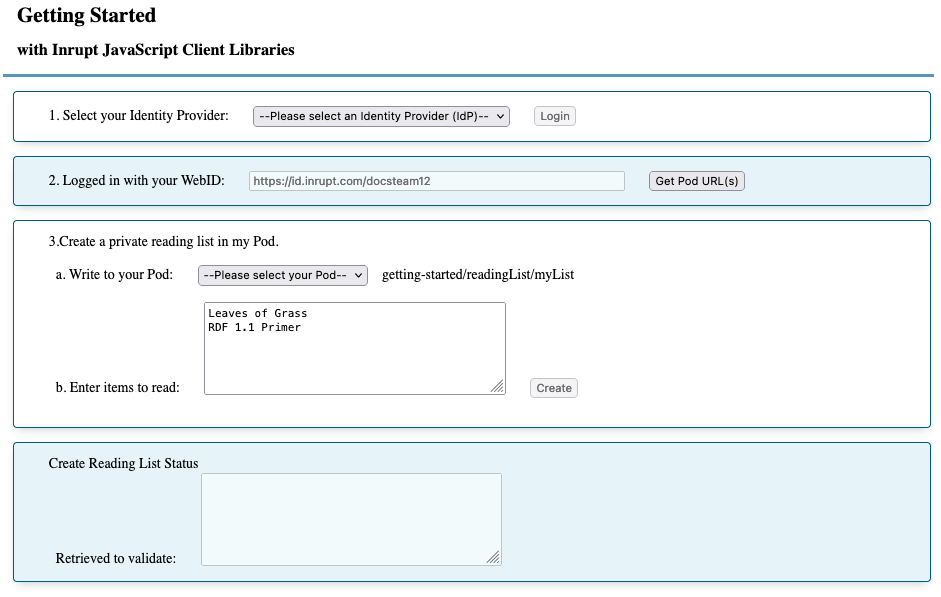 Prerequisites#
Register Your Pod and Create Your Profile#
Note
The tutorial assumes that your Pod server is either https://pod.inrupt.com or https://inrupt.net/. If your example Pod is not on either of these servers, you must change the oidcIssuer value in the application's index.js file.
For more information on these Pod servers, see Inrupt Pod Spaces.
To create a Pod at https://pod.inrupt.com (Currently in Alpha):
Go to https://signup.pod.inrupt.com/.

To login or sign up, you must agree to the Inrupt terms of use.

Click Login/Sign Up. You are shown the Login screen.

Click the Sign up link at the bottom to switch to the Sign up screen.

Fill in your username, email, and password.

Click Sign up. You are sent a verification email.

To verify your email, open the verification email and click on the email verification link in the message.

Once verified, go back to Pod Spaces window and click Continue.

Sign in with your username and password.

Click Approve to allow "Inrupt Pod Space Registration" access to requested information. Once approved, your Pod is created:

| | |
| --- | --- |
| WebID: | https://pod.inrupt.com/<username>/profile/card#me |
| Pod URL: | https://pod.inrupt.com/<username>/ |
| Solid Identity Provider: | https://broker.pod.inrupt.com |

Click on the Go to PodBrowser link.

At the Pod Browser login screen, click Sign In.

Sign in with your Username and Password.

The consent screen appears. To continue, Approve PodBrowser.

Once logged into PodBrowser, click on your name at the top-right corner and click Profile.

Edit your public profile.

Important

Your profile information is public.

For this tutorial:

Enter a name in the Name field.

Enter a role in the Role field.

Your data is saved automatically.

Log out. Click on your name at the top-right corner and click Log out.
To create a Pod at https://inrupt.net/:
Open a browser to https://inrupt.net/.

Click Register.

Fill in the form and click Register. Your Pod is created:

| | |
| --- | --- |
| Pod URL | https://<yourusername>.inrupt.net |
| WebID: | https://<username>.inrupt.net/profile/card#me |
| Solid Identity Provider: | https://inrupt.net |

You are redirected to your public Solid Pod URL: https://<yourusername>.inrupt.net.

Click Log in on the upper right corner.

From the list of identity providers, click on your Solid Pod URL.

Enter your Username and Password and click Log in.

Click on the Edit your profile tab.

Tip

You may need to reload the page.

Edit your public profile.

Important

Your profile information is public.

For this tutorial:

Enter a name in the Name field.

Enter a role in the Role field.

Your data is saved automatically.

Log out. Move your mouse to the image in the upper-right corner image to display additional menu items and click Log out.
Install npm#
If you do not already have npm installed, install npm. npm is installed as part of the Node.js installation.
Ensure that you use a version of Node that is supported by webpack. For webpack 5, the minimum Node version is version 10.13.0(LTS).
Explanation of the Code#
See Examination of the Code for an explanation of the Inrupt's JavaScript client libraries usage in this tutorial.